Merlin & Your Quest For the Holy Grail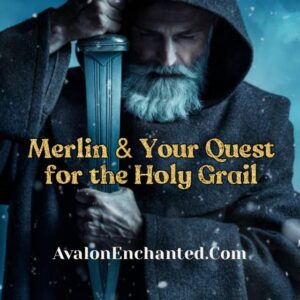 Answer Your Higher Calling With Merlin the Master of Magic in this One-On-One Magical Training: Merlin & Your Quest For the Holy Grail.
Merlin & Your Quest For the Holy Grail is an intensive One-On-One Magical Training with Merlin the Magician facilitated by Tori McNally from Avalon Enchanted.
Over the centuries, Merlin the Magician has emerged to those who are ready as the powerful Avalonian mentor and teacher helping mentor them in not only the ways of the mystical isle of Avalon, but also the art of alchemy, sacred Magic and his connection to the Holy Grail. Merlin is not only an Ascended Master, but also a Master Teacher with
so much to share with those who are serious about connecting and working with him in their magical practices.
Merlin & Your Quest For the Holy Grail is a Six-Part Magical Coaching Series (Six 90-minute, bi-monthly, one-on-one coaching sessions) facilitate by Tori McNally from Avalon Enchanted designed specifically for those hearing Merlin's call to explore the ways of the master Magician. Participants will delve into the Merlin legend & lore with the mystical lands of Camelot, your connection to the mystical Holy Grail and how you can strengthen your connection with him to seek out his assistance along your path.
These Bi-monthly, one-on-one coaching sessions include a collection of:
Meditations & Journeys
Energetic Clearings, Attunements & Activations
Intensive Journaling Prompts
Ceremonial Workings
All to connect with Camelot, the great Isle if Avalon, and The great master's teachings.
Duration: Six Bi-Monthly One-On-One Coaching sessions
Process: One-On-One personal coaching guidance (Six 90-minute coaching sessions) held on Zoom
Investment: $990.00 (payment plan available)
Please register today at
https://app.moonclerk.com/pay/70gdx6vc25kn
Spiritual coaching is imperative at some point in our journey, because even though there is a healer and an awakened soul within all of us, we often lose sight of our inner power and strengths along our way. Having a coach/mentor makes us more accountable for our healing and helps us identify the hidden parts within us that we have been unable to heal ourselves yet.
You no longer have to do this alone! Alchemize gives you the tools to show you EXACTLY what your next steps are while being guided by a coach to draw out the best of you for you to alchemize and build upon. These tools are paired with ancient spiritual insights and my personal practices.
Please email at [email protected] for questions
One-On-One Magical Training With Merlin is Non Refundable