Psychic Mediumship One on One Coaching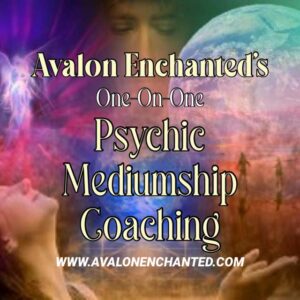 SO YOU WANT TO DEVELOP YOUR PSYCHIC MEDIUMSHIP ABILITIES BUT DON'T KNOW HOW? READ ON…WHAT IS PSYCHIC MEDIUMSHIP COACHING?
I have been asked so many times by clients: "Could I ever be a psychic and do what you do?"
My response is always: "You already are and you're great at it!"
LET ME EXPLAIN WHY:
We are all naturally and profusely psychic as we all have an eternal connection to the Universe and to the Divine.
Have you ever had a 'gut feeling'? Have you ever just 'known' something without a logical explanation? You see, you use your psychic intuition more often than you think.
So while I can't really 'teach' you to be psychic since that's a gift you already possess I can however, guide you to understand how to uncover and utilize your own natural psychic gifts and help you develop your personal mediumship abilities.
While psychics tune into the energy of people or objects by feeling or sensing elements of their past, present and future and rely on their basic sense of intuition and psychic ability, mediums move a step further and use their psychic or intuitive abilities to see the past, present and future events of a person by tuning into the spirit energy surrounding that person.
​
WHY CHOOSE ME AS YOUR INTUITIVE COACH?
Athletes, artists and musicians will tell you the same thing: they all have trained with different coaches to improve their skills and abilities throughout their lifetimes and careers – and so it is with psychic mediums.  An investment into yourself helps advance your skills in your metaphysical practices and along your spiritual path.
One-On-One Psychic Mediumship Coaching is for the serious psychic student who is committed to exploring their abilities and taking them to the next level.
By studying with me as your Intuitive Coach, you will be free to set your own pace. I want you to feel comfortable and confident during the process. Together we will customize your training specifically to meet your needs for the achievement of your goals.
Let go of all your fears right now. I want you to know that your well-being is foremost in my mind as I lead you to the first steps of this lifelong journey. This bond of trust is essential as I help support you and guide you to help uncover your abilities and develop your Mediumship successes.
At this time, the One-On-One Psychic Mediumship Coaching opportunity is limited to in-person only here in the Newport, RI area to help you get the most out of our time together, and to help you expand your abilities through in-person metaphysical exercises.
Your satisfaction is paramount to both you and me. Once you decide to take this exciting leap to develop your skills as a Lightworker, then your adventure will really begin. You are a powerful and creative being willed with glorious talents and capabilities just waiting to be unearthed.
To book your free one on one discovery consultation: [email protected]
Three ways to purchase and start your one on one training:
Psychic Mediumship Coaching Special ($777.00 for five Sessions and receive a 6th session free)
https://app.moonclerk.com/pay/6v2lptobeo73
OR
Psychic Mediumship One on One Coaching 5 Sessions With Payment Plan ( 5 installments every two weeks)
https://app.moonclerk.com/pay/1xg0m7bzy35j
OR
Psychic Mediumship Coaching (Pay by the Individual Class)
https://app.moonclerk.com/pay/5y91a0hwtgtf
Let's get started!
(Each Class is 2 Hours Long and All Classes are Non-Refundable)